In order to make dairy life and residential environment comfortable, we provide the creation of the environment by valuing the concerns of our customers and also by taking health initiatives and energy-saving measures into consideration.
Air conditioning facility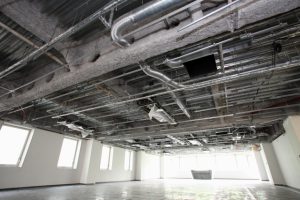 Air conditioning facility is the one that adjusts temperature/humidity/cleanliness of air that is essential for residential environment/manufacturing environment of plants in conformity with use conditions. We design and construct such facilities by taking indoor environment into consideration that contribute to comfort of residents and indoor environment where the products were manufactured efficiently.
Plumbing system
Plumbing system is the facility that supplies water necessary for daily life such as drinking water and water for bath/toilet.
In every facility, in order to supply water that can always be used safely and securely, our technologies have been utilized.
Safety control system
The safety control system that we mainly deal with is a fire extinguishing system.
There are various kinds of fire extinguishing systems that extinguish fires in their initial stages that occur within buildings or that prevent the neighboring spots from catching the fires depending on the scale/usage of the buildings.
We provide the fire extinguishing system according to the individual usages by utilizing the know-hows and results that we have cultivated so far.