We consider it as the duties of companies to clarify the attitude to value environmental protection even in the rapid changes in the market environment such as economic globalization, development for new technologies or diversification of customers' needs etc.
We have been tackling environmental issues by proposing the facilities that take global environmental conservation into consideration.
Energy-saving facilities
In these days with intense competition, it is not permissible to increase the cost of products due to the measures against global warming.
We have gained a lot of results to achieve cost reduction of the products in total by reducing energy regarding manufacturing and proposing system construction to realize saving power/saving energy.
Environmental pollution preventing facilities
Since inauguration, we have contributed to global environment protection by making full use of our accumulated combustion technologies/water treatment technologies, and by constructing resource saving system/system for pollution-free to perform reuse as thermal energy and recirculation as pure water of waste, of gas/waste heat/waste fluid discharged from production processes.
Manufacturing and selling for environmental devices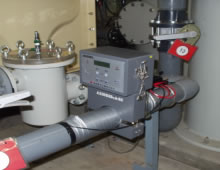 "ARIORES" as the patented product to remove the fixed scale and prevent occurrence of red rust without damaging the piping used with all materials for all purposes.
We contribute to environmental conservation by providing the products that are friendly for human bodies and environments using no medicament.
* Scale: the substances fixed within piping, such as calcium dissolved in water